For most riders, joining a team that is repeatedly ranked the best in the would be an exciting by undeniably daunting prospect. A team of winners, multiple-time national and world champions, now directed by one of the best female cyclists in history – a move to Team SD Worx may feel like a big step for a young rider coming from a UCI Continental team.
However, if you ask two of SD Worx's newest recruits for 2023 how they feel about being in precisely that position, that's not how they would describe their experience joining the Dutch superteam.
Mischa Bredewold, 22, and Femke Markus, 26, are both starting their WorldTour careers at SD Worx, moving up from the Parkhotel Valkenburg team. Instead of nerves about making the step up, the pair use the words 'family', 'comfortable' and 'friendly' repeatedly to describe their first few weeks in the team.
Speaking from the team's 2023 launch, held in Antwerp's ornate Royal Museum of Fine Arts, there is some apprehension at the scale of proceedings. "The presentations are a little bit bigger," Markus remarks. What about intimidation about rubbing shoulders with the likes of Demi Vollering, Chantal van den Broek-Blaak and Anna van der Breggen? That's of little concern for the Dutch duo.
"All the riders I knew already, and of course coming here together with Femke it was really nice, and Lonneke [Uneken] was already on the team," Bredewold said. "We've been really good friends for years now so it already felt super comfortable to come here. But everybody has been super welcoming and it's already quite like a family and good friends, so that's really nice."
Considering the alumni of the talent-nurturing Parkhotel Valkenburg set up, there's something of a reunion going on at SD Worx in 2023, with Lorena Wiebes, Bredewold and Markus following in former-teammate Demi Vollering's footsteps. On top of the excitement of moving to the WorldTour, there is an added layer of once again riding alongside old friends.
"I'm really happy I'm riding again with Lorena and Demi because I'm still friends [with them] since they left Parkhotel," Markus said, who rode with Wiebes and Vollering in 2019 and 2020. "I really like how they developed themselves, and I'm proud I made it in the same team. I'm looking forward to race this year again with you."
It's an excitement that goes both ways, with Vollering pleased to have her friends back by her side, something she hopes will add confidence as she aims at the Classics and a second tilt at the Tour de France Femmes avec Zwift.
"It's really nice to have them back in the team, you know them already so well," Vollering said. "So for me it is really something nice and also that gives me a lot of good feeling in the team. You feel really confident because you were so close to them. So it's even nicer now because you have them back in the team. It feels for me like a big group of friends."
Mischa, 'Fem' and 'Lon'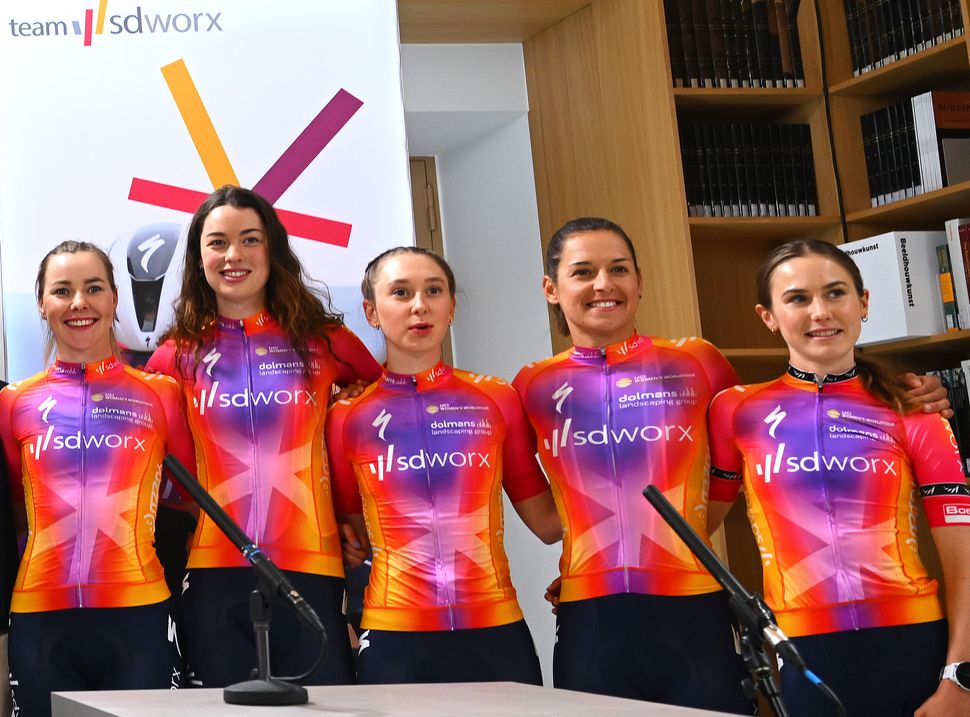 As well as the Parkhotel reunion that Danny Stam is orchestrating at SD Worx, Bredewold and Markus couldn't hide their happiness at racing alongside Lonneke Uneken, someone Bredewold has ridden against since childhood, but never for the same trade team.
Women's cycling may be growing and becoming more international, but its roots remain local, especially amongst the Dutch riders. In an Instagram post shared from the team's second camp in Spain, Bredewold wrote fondly of "finally zipping up the same shirt" with the affectionately named 'Lon' and 'Fem'.
"I think Lonneke started when she was 12, 13, I think, and we became really good friends around 16," Bredewold explained. "We rode on the junior national team together, we did some races and training camps and yeah, we got along really well. And Femke I got to know when we started at Parkhotel, so two and a half years ago. So with Femke I know her a little bit less longer, but we became really good friends on the team. It's really nice to share this step with her."
Big team ambitions with a small team ethos
The familiarity in the roster is certainly a pull for Bredewold and Markus, but both also explained how the ethos in SD Worx's set up makes it even more of an attractive place to be. Undeniably one of the best teams in the world, topping the UCI rankings on eight occasions, it would be easy to imagine a highly competitive or intense environment, but Bredewold and Markus's perceptions seem to challenge that.
"This team has like this image of being successful, winning everything and you think 'oh they're all going to be these big riders' but actually everybody is really… I don't know, it's quite the same as with Parkhotel, the environment," Bredewold said. "It's all super friendly and quite relaxed so it's not that big and scary after all."
Often given the 'super team' moniker – not undeserved, boasting a uniquely strong team – Bredewold explains how that doesn't necessarily translate into a strict or regimented environment. Whilst that may work for some, it's clear from SD Worx's roll of honor that it's not the only way to be successful. Their ambitions may be big, but the ethos is not all that different from many smaller teams.
"I think if you like a little bit more structure and protocol then some other teams could also be really good, but for me this team really works because it's really like a family. It's a really strong team, but it's quite a small team and the staff is quite small, so it's a little bit like how things were with Parkhotel and I really like that."
No hiding in the shadows
The result of their in-built comfort in the team seems to be a swelling of confidence. Markus and Bredewold know they are the newbies, taking on a team role first – Markus as part of Lorena Wiebes's lead-out train, and Bredewold a cog in SD Worx's stacked classics squad – but they're not afraid of being open about their own ambitious. They're going to a team of winners, and they both want to be winners too.
Bredewold has already notched up a first WorldTour win on stage 6 of the 2022 Simac Ladies Tour, whilst Tour de France Femmes polka dot jersey wearer Markus is still waiting for hers.
"For the next couple of years, it's quite long my list [of hopes and goals]," Bredewold said with a laugh."If I'm being honest I want to grow into a rider in the future that can win big races. It's fine if that still takes me a couple of years because I think I have a long way to go, but I really feel like with this team it's the best place for me to get there, for the upcoming year especially.
"Here I can learn how to ride finals and how to win finals, so I hope I can be a good part of that for the team and get as many wins together as we can. Then hopefully in some time I'll be able to get some wins myself."
For Markus, being among a team that is always striving to win – and often does – is not a source of pressure, but rather a cause for motivation.
"We are not riding for the podium but we are riding to win the races. I really like that, I really like to race as a team and with the team."
Still the dream team
There is some sadness about leaving Parkhotel – the team that's cultivated a strong family atmosphere, making it hard to imagine Bredewold and Markus without their usual sidekicks of Quinty Schoens and Femke Gerritse – but it's an undeniably happy move to SD Worx.
"I think this won't change anything," Markus said. "Because I'm still talking to them and I'm still calling my old team director sometimes. I also feel proud that I can show the girls that it's also possible for them to go to bigger teams in a few years."
In the ever-expanding world of the Women's WorldTour teams, the list of squads young riders dream about is certainly growing – the super-strong teams of Trek-Segafredo and Movistar aren't letting SD Worx dominate anymore – but it remains true that for many, especially Dutch riders, SD Worx is the real deal.
"It's a dream," Markus said. "It's really something I was looking forward to, like this was, or is, my biggest dream, to ride in this team."
And not only are Markus, Bredewold and Uneken achieving their individual dreams, they have the rare privilege of being able to do it together, alongside their oldest friends.
"It's all our own personal dream to come to this team," Bredewold. "And now we can really fulfill those dreams together, it's even better."