Australian underdog Alexei Popyrin has fallen short of a best-ever grand slam campaign, bundled out in the third round of his home major by American prodigy Ben Shelton 6-3 7-6(4) 7-4.
Popyrin stunned eighth seed Taylor Fritz in an incredible victory in the second round – his second five-set win this week – but could not back up that remarkable upset against the big-serving 20-year-old.
After Alex de Minaur's success earlier on Saturday, there were high hopes that Australia would see two men reach the Australian Open fourth round for the first time in eight years.
But Shelton – on his first ever trip outside the USA – silenced the crowd in John Cain Arena with a dazzling performance, combining monster serving with power and finesse with his groundstrokes.
Watch Tennis Live with beIN SPORTS on Kayo. Live Coverage of ATP + WTA Tour Tournaments including Every Finals Match. New to Kayo? Start your free trial now >
Shelton had ended 2021 ranked 568th, and only made his ATP debut in July 2022. But he would surge inside the top 100 by the end of the year on the back of a series of stunning upsets – including beating current world no. 2 Casper Ruud (then No. 5) in straight sets in Cincinnati.
The promising starlet made his grand slam debut at the US Open but was dumped out in the opening round. The son of former star Bryan Shelton (also his coach) had never even played outside of the US until this month – but his decision to get a passport has paid off handsomely.
He joked: "For the first 12-13 years of my life I swore I'd never play tennis. That was my dad's thing."
Now, the 20-year-old is on the brink of the top 50 and will face good friend and fellow American JJ Wolf in the fourth round.
It is not all bad news for Popyrin despite his tough defeat.
Having received a wildcard entry into the tournament, the 23-year-old will return to the top 100 on the back of his third-round win. More importantly for the Australian, however, is his impressive return to form after a nightmare 2022.
His victory over Fritz last round, combined with a win over Felix Auger-Aliassime earlier this month, means Popyrin has two wins over top-10 rivals already in 2023. Popyrin had only ever beaten a top-10 player via injury retirement before this year .
To follow Djokovic or Murray in their Saturday matches, click here
Watch Tennis Live with beIN SPORTS on Kayo. Live Coverage of ATP + WTA Tour Tournaments including Every Finals Match. New to Kayo? Start your free trial now >
Novak 'worried' about hamstring strain | 01:08
Popyrin was the lowest-ranked player left in the men's draw at 113, but entered the third-round battle on the back of the biggest win of his career over Fritz.
For the third consecutive match, Popyrin lost the opening set – this time 3-6 – as he struggled to find his rhythm against the left-handed world number 89. The match was also briefly delayed in a scary moment when a fan collapsed in the stand.
"We have someone that fainted in the stands," the umpire said, before calling out to the struggling fan: "You fine sir?"
The crowd member was fortunately fine.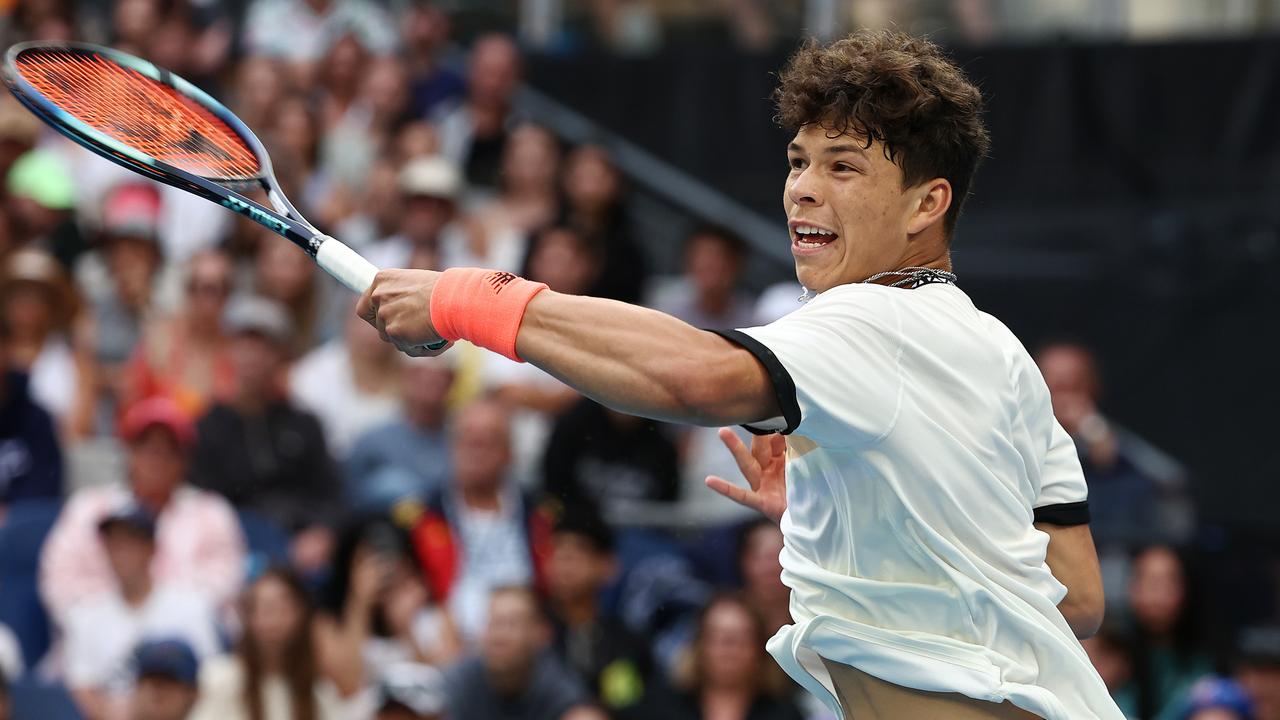 Popyrin got off to a hot start as he earned a break point in the opening game of the match. Shelton staved it off, before both players quickly held their serves in the next two games.
But 15 minutes in – as Popyrin served to level it up at 2-2 – play was halted as a fan appeared to collapse.
"We have someone that fainted in the stands," the umpire said, before calling out to the struggling fan: "You fine sir?"
The crowd member was fortunately fine, and Popyrin wasn't too bothered by the short break, comfortably seeing out the hold.
In his next service game, Popyrin saved his first break point of the match before being stunned by an incredible piece of court coverage from Shelton.
The American was on the back foot as Popyrin came into the net, but Shelton turned defense into attack with a lovely shot aimed at Popyrin's feet. The Australian's half-volley drop shot wasn't quite good enough, with Shelton racing forward and slamming a crosscourt passing shot.
Shelton's monstrous roar was in stark contrast to the fans at John Cain Arena who were silenced by the American's sizzling start.
The big-serving leftie gave Popyrin no chance to claw back into the set, and did not lose a point in his next two service games as he sealed the set 6-3 in just 33 minutes.
Shelton was serving at a remarkable average first-serve speed of 200.1km/h with a fastest speed of 223km/h.
It was significantly higher than his average first-serve speed from his opening two rounds – 193 and 188.5km/h respectively.
"He is playing out of his skin," Lleyton Hewitt said about Shelton in commentary.
Shelton nailed 13 winners to 7 unforced errors, while Popyrin's nerves appeared to shine through as he managed eight winners to 10 unforced errors.
Todd Woodbridge said: "He just seems a little tight and tense at the moment."
Shelton carried his red-hot level into the second set, and threatened to break the Australian at 2-2.
The Australian quickly fell to 15-40, but fought back to save both break points. Shelton brought up a third break point, but Popyrin unleashed a 209km/h ace to deny the American before holding his serve.
Finally, the tide seemed to turn as Shelton's unstoppable level began to waver at the hour mark.
Three consecutive unforced errors from Shelton saw the American face two break points at 15-40. Shelton slammed a backhand winner to defend the first, before firing a massive 191km/h second serve that Popyrin was unable to return.
But another unforced error from Shelton on deuce gave the Aussie a third chance to steal the game – only for Shelton to blast a terrifying 226km/h ace down the center line.
Popyrin had spurned three opportunities as Shelton held, but the home hope shook off his disappointment with a rapid hold to love – something he would repeat in his next two service games as the set went to a tie-break.
Popyrin started with a 210km/h ace, but quickly fell to 1-4. He hit back, making it 4-5, but Shelton held firm to seal the tie-break 7-4.
The 20-year-old held to love to start the third set before putting Popyrin under severe pressure at 15-40, but the Australian escaped a potentially fatal break as he denied Shelton three break points and held. Shelton, however, held to love once more.
Both players appeared relatively comfortable on their own serve – unsurprising given their tournament-topping service statistics – but Popyrin could not cope with the pressure as he served to stay in the match at 4-5.
From 15-0, four consecutive unforced errors from the Australian handed Shelton the third set and the match.
"I know you guys were going for your hometown boy today and I didn't have most of the crowd on my side, but thanks for everyone out there supporting me," Shelton said.
"I really appreciate it."