BOZEMAN — Lonyatta Alexander Jr. hasn't found a permanent home in his young college football career. He believes Bozeman will end his nomadic ways.
Alexander, a rising redshirt sophomore wide receiver, committed to Montana State on Jan. 13. The 6-foot-1, 200-pound Washington state native transferred from the University of Washington one year after leaving fellow Pac-12 school Arizona State.
"Getting to know the guys, getting to know the coaches and everything, I definitely see myself being here for the next three years playing with these guys" at MSU, Alexander told 406mtsports.com on Friday.
Alexander was a four-star recruit out of Kennedy Catholic High School in Burien, Washington (a suburb of Seattle), and he was one of the Sun Devils' top signees in the 2020-21 recruiting cycle. 247Sports listed him as the seventh-ranked Washington state prospect, the 46th-ranked wide receiver in the United States and the 299th overall prospect in the country that year.
"Fluid receiver who doesn't have elite top end speed but routinely separates from his defender," 247Sports' Brandon Huffman wrote in his 2020 scouting report of Alexander. "Can make hard breaks to peel off his defender and gets himself open in the soft spot in coverage while also being able to make the catch in traffic. Soft hands and solid route runner but needs to stay disciplined in his routes and blocking ability. Projects as multi-year Power 5 starter and projects as third day [NFL Draft] peck."
Alexander played two games for ASU in 2021 and preserved his red shirt. He entered the transfer portal last January and joined Washington later that month.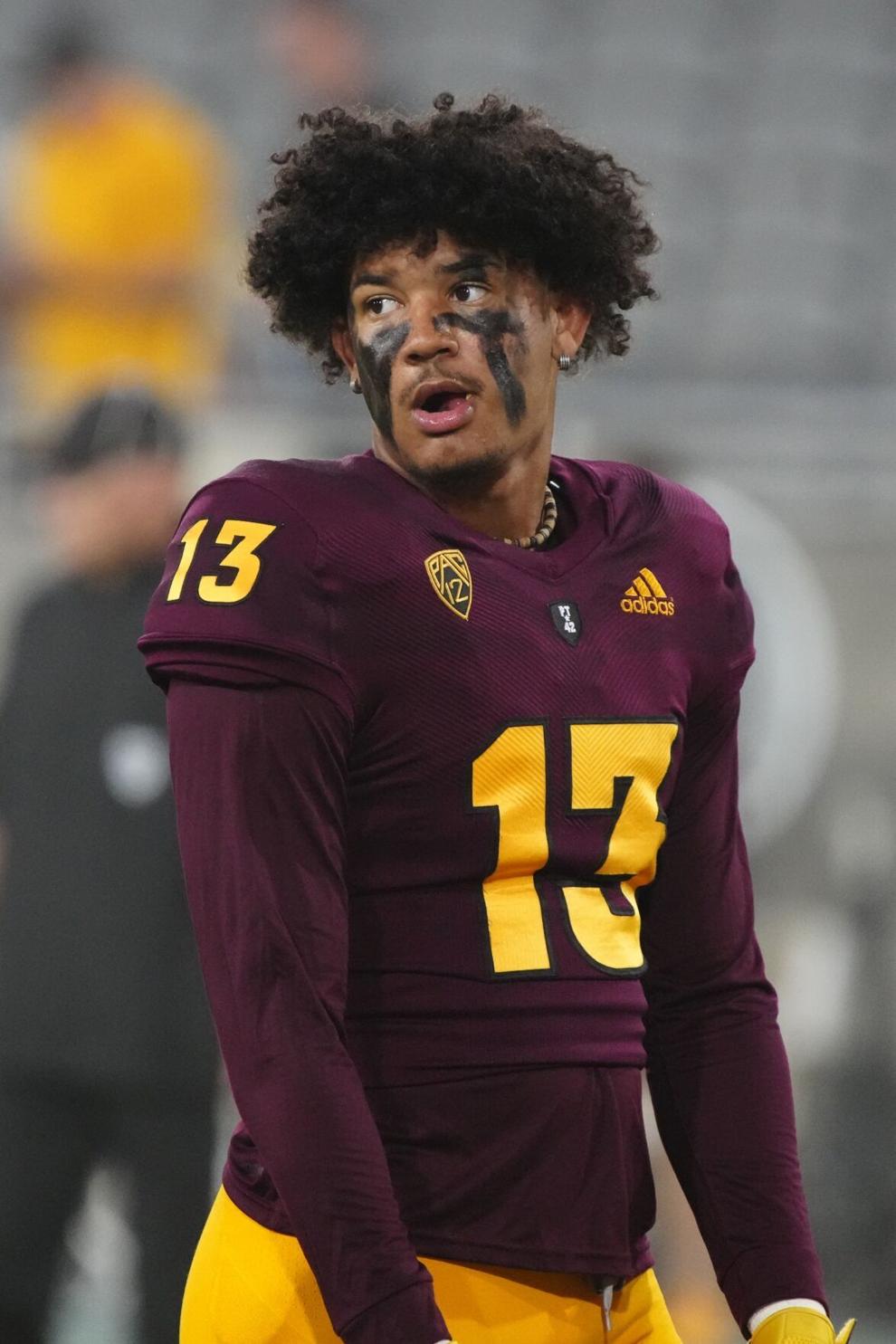 "It just wasn't the right environment for me, both on and off the field," Alexander said of ASU. "The coaching staff was great, but in the locker room and everything, it was kind of hectic, and I wasn't really comfortable there."
On paper, the huskies were a perfect fit for Alexander. They're a winning Power 5 program with a pass-heavy offense basically in the backyard of his hometown. He appeared in all 11 games last season, and while he mainly played special teams, he did get some receiver snaps and made one catch for nine yards (against Portland State, which plays with MSU in the Big Sky Conference).
Alexander didn't want to leave Washington, but "certain circumstances" led him to enter the portal last month, he said. He didn't want to specify what those circumstances were.
Alexander received offers from three Big Sky programs: MSU, Cal Poly and Montana. His decision was between MSU and Cal Poly, and while the Mustangs enjoy higher temperatures, the Bobcats have been much better in recent years. The last of Cal Poly's nine losses was 72-28 to MSU, and the Cats went on to make their third straight Football Championship Subdivision semifinal appearance.
"It's a winning program," Alexander said. "They've seen the national championship, they've been in the playoffs very consistently throughout these last couple years and it's a great group of guys inside of the locker room with a great coaching staff."
Alexander heard good things from a pair of MSU players who are also Washington state natives: receiver Willie Patterson and running back Isaiah Ifanse (2022 was Patterson's final college season, and Ifanse transferred to San Jose State earlier this week).
Offensive analyst/recruiting & operations assistant Sam Mix was the first MSU coach to reach out to Alexander, who also enjoyed his interactions with receivers coach Justin Udy and offensive coordinator Taylor Housewright.
"Coach Housewright is a great offensive coordinator. Everything that he showed me on my official visit, it's an offense that I definitely could see myself playing in for a while," Alexander said. "(Udy's) a great receivers coach, and he produced a lot of great guys at Montana State and from other schools as well, so I'm excited to be coached by him.
"Let's just say Montana State is going to bring back that natty this year."
Alexander and his girlfriend have already moved to Bozeman, and he'll start MSU classes next week.
"When the time is right and we want to have a family, we want to raise our family outdoors having fun with activities. We don't really want them to be screen heads," Alexander said. "I feel like Montana would be a great spot to really disconnect from the world and really enjoy life."
Alexander caught 138 passes for 2,525 yards and 34 touchdowns in his sophomore and junior seasons combined (his senior season was shortened because of COVID-19). His 40-yard dash time is a tick above 4.6 seconds, he said, so he knows he's not a speedster. But he is a "route technician" who will play "wherever Coach Housewright puts me," he said.
"Wherever they need me to make plays, that's where I'm going to play for them, whether it's outside, slot, running back, quarterback," Alexander said with a laugh.
He knows MSU has a run-heavy offense, and that's fine by him.
"I got used to blocking when I was at the University of Washington," Alexander said. "They taught us great technique and everything, and I kind of fell in love with blocking and putting guys on their butts.
"So yeah, I don't mind blocking. It's something I'm going to have to do if I end up going to the NFL, so why not get used to it now?"
This isn't the first time MSU has added a four-star transfer receiver from a Pac-12 program. Travis Jonsen joined the Cats in 2018 after starting his college career at Oregon (Jonsen, who lined up at wideout and quarterback at MSU, spent the 2017 season at Riverside College).
It's obviously too early to tell if Alexander will turn into a first-team All-Big Sky player like Jonsen did in 2019. But Alexander has the talent, and he believes he's found his new home.
"I've been craving that for a minute. Washington's obviously my hometown, and if those certain circumstances wouldn't have happened, I would probably still be there today," Alexander said, adding, "I feel like God just closed a door and opened up a new one. Walking through that door and meeting these guys, I can say that I'm very comfortable here and very excited to see what we're going to do this year."