Maggie Coles-Lyster's season nearly unravelled at the seams when she learned that B&B Hotels had unexpectedly collapsed last December. She signed a pre-contract with B&B Hotels to mark her comeback to European racing after spending three years dominating in North America and was left scrambling to find a new team in the eleventh hour.
In an interview with cycling newsthe Canadian champion said that it was the hard work of her agent, retired Australian pro cyclist Annette Edmondson, who finally found her a new home with the Spanish outfit Zaaf Cycling Team in 2023.
"I was signed and was ready to race on another team for this year, B&B Hotels, and that plan all kind of went up in flames," Coles-Lyster said cycling news in a phone interview while traveling to the start of the Women's Tour Down Under.
"On December 7, I woke up without a contract and no team, and I had already committed to moving over to Europe. I wanted to race on the European circuit again and try to get in some WorldTour races this year. Zaaf took me on , and I feel lucky to have found a home after the extremely stressful couple of months [B&B Hotels]."
The now-collapsed women's team was supposed to grow from the B&B Hotels-KTM squad run by brothers Jérôme and Sébastian Pinea. It had signed headline riders Olympic Champion Anna Kiesenhofer, Audrey Cordon-Ragot, Chloe Hosking and Coles-Lyster, while Mark Cavendish was heavily linked with a move to the men's team before it fell apart in December 2022.
Zaaf stepped in to hire some of the riders left without a contract, such as Coles-Lyster and Cordon-Ragot, but other riders haven't been so fortunate, for example, Hosking is now facing the prospect of retirement.
Zaaf announced a roster of 15 that also includes Lucie Journier, Heidi Franz, Michaela Drummond, Elizabeth Stannard, Eva Anguela, Danielle De Francesco, Lucía García, Mareille Meijering, Nikola Nosková, Marta Romance, Debora Silvestri, Emanuela Zanetti and Ebtissam Zayed Ahmed.
"We did have a pre-contract signed, and then it was like, one day the team was happening, one day it wasn't, one day it was, until what eventually happened, and there was no team. All of us who were supposed to race with them were left scrambling to find another ride," Coles-Lyster said.
"All of us who were supposed to be with them had a very similar experience. We were all very much in it together, and we were expected to have a team, and then ended up teamless. So, Zaaf signed a bunch of us. "
'I'm getting my feet on the ground in Europe'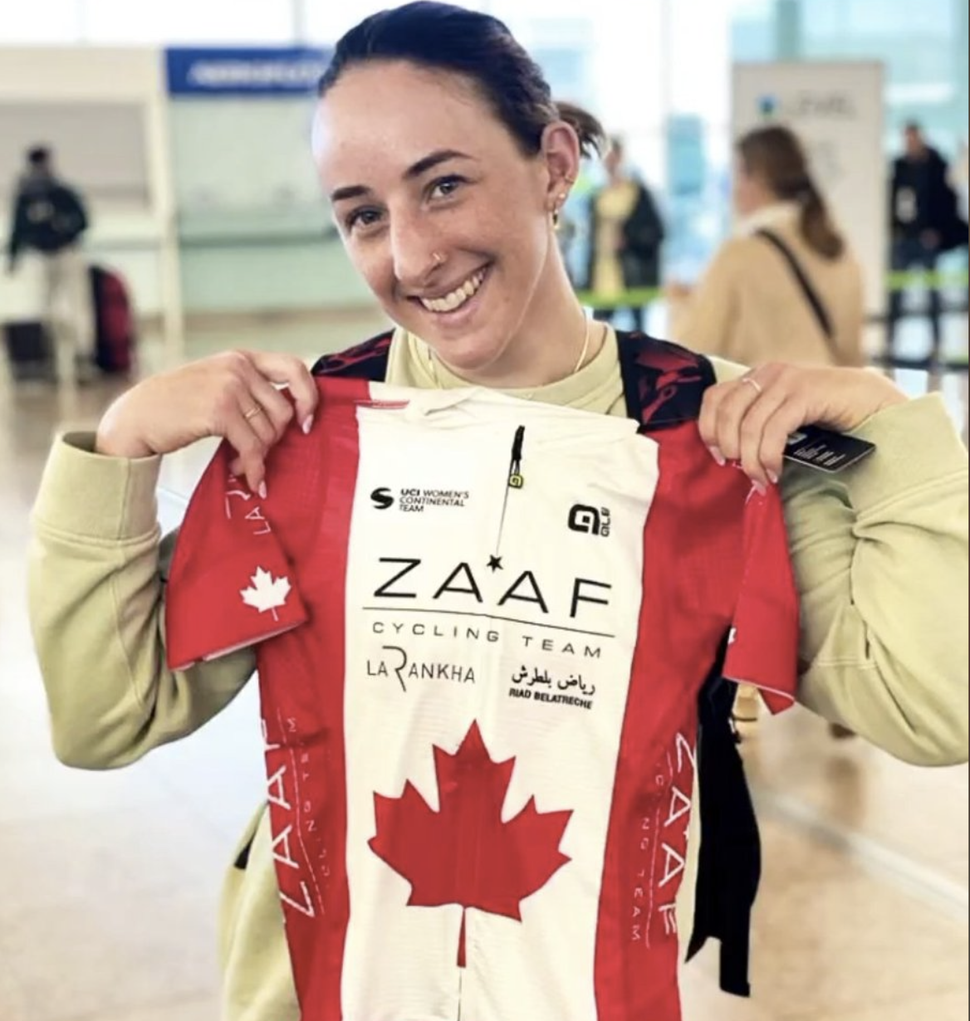 Coles-Lyster's decision to race in Europe in 2023 marks a comeback of sorts, or as she put it, part of her journey in cycling. "You could call it a restart, or it's just another place in where I am on this journey, a piece of the puzzle," she said.
She hasn't raced on the European circuit since a series of crashes in 2018. However, she first traveled overseas the year before, as a junior contracted as a development rider on a Belgian team in 2017. She has publicly spoken about her experience being sexually assaulted by an assistant who also worked as the soigneur on the team at that time.
"I loved the racing [in Europe], and when I was living in Belgium, that's kind of what I lived for. It wasn't a great team experience, but I loved the race days," she recalled her two seasons overseas. "There were crashes, some weight gain, and a few factors, like that experience in Europe, that killed it for me a couple of years."
She returned to North America and spent the last three seasons racing for DNA Pro Cycling on the criterium circuit in the US, gaining prominence as one of the fastest sprinters.
Standout performances last year include winning the road race at the Canadian National Championships. She also focused on the track with highlights that included fourth in the Omnium at Worlds, bronze in the Scratch Race at Commonwealth Games, winning the national title in the Omnium and finishing third in the endurance category at the Track Champions League.
"Racing in North America has probably been exactly what I've needed the past three or four years. I have gained a lot of experience and results. But I just really want to take my road racing to the next level. Being in Europe is where I need to be to do that," she said.
Coles-Lyster said that she partnered with rider-agent Edmondson for the first time ahead of this season, which helped reduce the amount of stress involved in finding a new contract, both with B&B Hotels before it fell through and then again with Zaaf Cycling Team on such short notice.
"Between me and the agent I worked with, Zaaf was pretty open with our lines of communication. I think a bunch of teams were in the same boat and wanted to help the B&B riders," she said.
"This was the first year I've worked with an agent. For me, going from racing the North American circuit and being very familiar with that to a whole new ballgame and not really knowing much about teams over here and all that stuff. Having someone who's a) experienced in racing in Europe and b) another retired female cyclist who knows the system. Having her represent me and help me navigate all this has just been a stress reliever."
Zaaf Cycling Team is managed by team owner Riad Belatreche and named after his grandfather, late cyclist Abdel-Kader Zaaf, who raced in the 1950s. It is in its second year as a Continental team, and its service course is based in Spain, about 30 minutes outside of Girona, where Coles-Lyster will live full-time during this season.
"I'm ready for this new challenge and new experience. So this is just kind of the start of getting back over here. It's hard as a North American, you're so far away from all of this, and it's not easy to either find rides or find teams are just a way to get over and just see what you can do and show what you can do," she said.
"I think that's what this year is about for me, just kind of getting my feet on the ground and getting back into the groove of it and figuring it all out. And so yeah, it's been a huge month for me; going from B&B , to a new team, to moving to Girona and having an apartment overseas for the first time.
"It's just like one new thing after another, but I'm here for it. I think I've gained a lot of confidence and excitement for racing in 2022. And I'm just ready to take that into this year. I' I'm super motivated to do well."
Coles-Lyster on Saturday joined her new Zaaf Cycling Team for the first time at the Women's Tour Down Under Schwalbe Criterium, where her new teammate Michaela Drummond sprinted to second from the break behind New Zealand's criterium champion Ally Wollaston. The three-day tour starts on Sunday, January 15 and runs through until Tuesday. She is a major contender to win the opening sprint stage and take the first leader's jersey.
"I'm on a European racing team and heading to my first WorldTour race. It's a little surreal, all of it, and super exciting," Coles-Lyster said.
"We have a strong team and quite a young team, but lots of firepower and keen riders ready to make a mark of what this team is and what we can do. So I mean, it's obviously our first time working together for all of us . I know everyone's just buzzing to be racing and be on the road. It's exciting and a lot of good energy."