Fifteen seconds may not sound like much of a lead for Jay Vine (UAE Team Emirates) to carry into the final day of racing at the Santos Tour Down Under, particularly on a stage that includes a summit finish, but Mount Lofty is no long alpine climb—nor a Corkscrew or even a Willunga Hill.
Though it offers a scenic ascent, with stunning views rolling out across the city of Adelaide right through to the coast, it's far shorter than Willunga Hill – which has been pivotal in the past but was not included in this year – and there's no sign of it the viciously steep sections that pulled the race to pieces on the Corkscrew Road climb.
Mount Lofty is tagged in the race book as a category-1 climb, 1.3km long with an average gradient of 7.3% and a maximum of 13.3%. Riders will have to ride to the top five times, and it is preceded by a long climb-heavy run-in as the race winds its way through Bridgewater, Stirling and Crafters before making a right up Mount Lofty Road.
The short stage crams in 3,131 meters of vertical ascent, but is that enough for the accomplished climbers in second and third place – Simon Yates (Jayco AlUla) and Pello Bilbao (Bahrain Victorious) – to pull back all of that 15 seconds?
Perhaps not, according to Bilbao's sports director Neil Stephens.
"I tend to think it's basically impossible, If you look at it realistically," the Australian told cycling news on the sidelines of the start of stage 4. "We're racing for the podium, whether it be second or third, I'm not too sure."
Despite the degree of difficulty, however, that doesn't mean that Bilbao and his team have thrown in the towel.
"That's a mathematical approach, a realistic approach to it. Obviously, we aspire to do it," Stephens said. "We'll try to catch him out."
So too will Jayco AlUla, with plenty of pride at stake as well as results when it comes to Australia's only WorldTour team at their home events, with family, friends and a legion of fans – along with team owner Gerry Ryan – prominent at the race .
The team came into the race with a dual leadership approach, and while a dropped chain put Michael Matthews out of contention right when he was in reach of ochre, Yates stepped up to carry the team's hopes. He moved up to second from third on Saturday, thanks to a sprint bonus, and now sits on equal time with Bilbao at 15 seconds back from Vine.
"We are still in the game, we aren't going to give up until the finish line tomorrow afternoon," said Matthews after stage 4. "It has been a rollercoaster week for us, but Yates has stayed strong and kept himself in position to win this tour, and obviously that is our goal.
"We aren't here for second place we are here to win, and we have the best riders around us and have won this race multiple times before as a team, so hopefully we can all get around Yates tomorrow and get him on to the top steps."
Numbers on side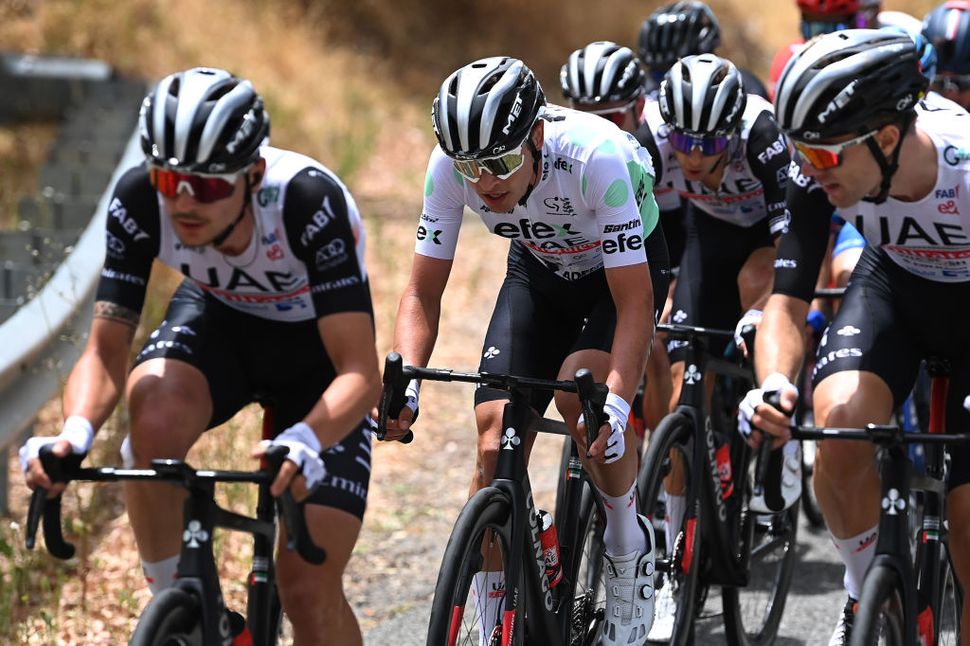 The 15 seconds isn't the only number Vine has on his side on Sunday either.
"The Mount Lofty climb is a 6w/kg effort but not long enough for people to get away," said Vine as he was headed to the podium at the end of stage 4 to accept the ocher jersey again.
Vine has been consistent in interviews that he is not about to count his chickens before they are hatched, but he has also been consistent with not placing a foot wrong, even through a race which has delivered a few unexpected turns.
The 27-year-old may not have had to bear the responsibility of leading on the overall classification at a WorldTour race before but he's got proven form in coping with new challenges and pressure given that on his very first race as a professional with Alpecin- Fenix ​​in 2021 he stepped straight on the second step of the overall podium, and in 2022 won two stages of the Vuelta a España.
Now, too, he is lining up with his new team UAE Team Emirates alongside experienced riders that know all too well how to perform at the top level, look after him on the climbs, and defend a race lead, including the likes of New Zealand rider George Bennett.
"We came here with a few GC options and now we're just sort of channeling that down," Bennett told cycling news before the start of stage 4. "We're obviously in the jersey, so we're all-in for Jay now and experience is one thing, but I actually think we need just good legs and, and to be strong as well.
"So yeah, I think on a hard day like tomorrow, I'm going to need to be there deep in the final to make sure that we can control Bilbao, Yates and whoever else wants to have a crack."
In answer to the question of whether 15 seconds is enough, we'll let Vine himself have the final word on that one: "It should be OK but obviously anything can happen tomorrow."