On Australia Day, they will address prominent women in business, sport, politics and the media at an "AO Inspirational" luncheon. Previous speakers include former prime minister Julia Gillard and US Vogue editor Anna Wintour.
The most recognizable of the Nine is King, whose lead part in the creation of the women's tour, combined with her extraordinary achievements on the court, made her one of the most influential women in sport in the 20th century.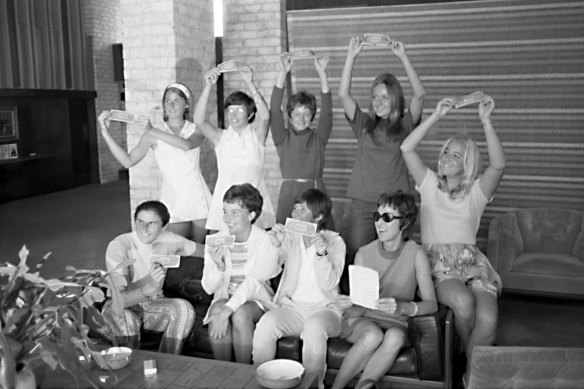 Dalton, while happy for King to take center stage, is also keen to ensure people understand why the Nine did what they did.
"Everybody thought that we'd done it because we wanted equal prize money," she says. "That wasn't the principle of it. We wanted recognition and to earn enough to be able to make a living. We wanted a door open."
At the time, the 32-year-old Dalton was a top-10 player, Wimbledon finalist and seven-time grand slam women's doubles champion. It was an era when the best men were already playing professionally but the money on offer to women was a pittance.
Jack Kramer, a tennis promoter and former player who arguably did more than anyone to make tennis professional, ran the Pacific Southwest Open and offered a winner's purse of $12,500 to the men and just $1500 to the women.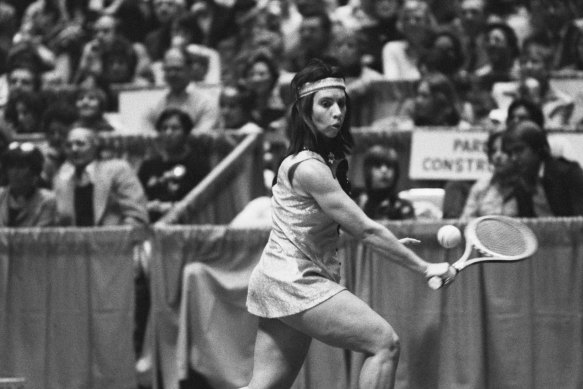 When Kramer was unmoved by the women's arguments for a bigger check, they decided to take their talents elsewhere. The idea and seed money for the Virginia Slims Invitational at Houston came from Gladys Heldman, the well-connected publisher of world tennis magazine, and her friend Joe Cullman, then chief executive of Philip Morris.
"We all thought, 'What have we got to lose?'" says Dalton. "We're not going to play in Jack Kramer's tournament anyway, he doesn't want us. We went to all the girls and said, 'Who would be prepared to put their head on the chopping block?' There was nine of us."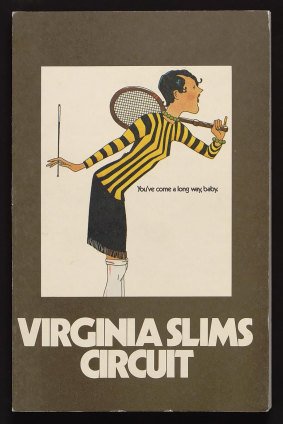 The Original Nine are Dalton, King, Casals, Melville Reid, Nancy Richey, Gladys Heldman's daughter Julie, Valerie Ziegenfuss, Peaches Bartkowicz and Kristy Pigeon. Virginia Wade and Margaret Court, Dalton's regular doubles partner and a friend she still calls 'Smithy', were among the champion players who initially chose not to join.
Cullman was a tennis fan. He was also a Big Tobacco executive who, according to marketing documents since unearthed by tobacco control researchersused the Virginia Slims association with tennis to give his cigarettes an aspirational appeal to women coming of age during the sexual revolution.
For its cigarettes and the tournament, Philip Morris chose a slogan that tapped directly into the women's liberation movement: "You've come a long way, baby."
Cullman was later inducted into the International Tennis Hall of Fame, while King served for five years on the board of Philip Morris. The Center for Tobacco Control Research and Education at the University of California San Francisco reports that from 1970 to 1990the death rate among US women from lung cancer nearly tripled.
Like King, Dalton is unapologetic about the association. "We didn't really feel guilty. I know that sounds funny when you talk about the damage cigarettes have done, but no one said anything about how bad cigarettes were for you."
In exchange for her involvement with the Virginia Slims Circuit, Dalton was regularly supplied with free cigarettes by Philip Morris, which her husband happily smoked.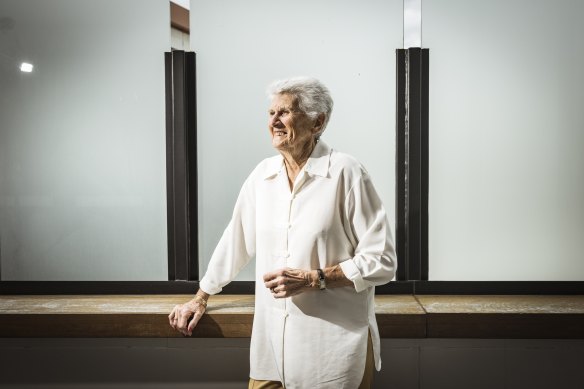 The speed at which women's professional tennis developed was extraordinary. By June 1973, less than three years after the Houston tournament, the Women's Tennis Association was formed with King as its inaugural president.
Dalton was by that time largely retired as a touring professional, although she competed at the Australian Open until her 40th birthday. From there, she maintained an enduring association with tennis, serving as the president of the Australian Fed Cup Foundation for 30 years.
Despite this rich history, Dalton's place in Australian tennis hasn't always been embraced by officialdom. When Dalton returned home from playing in Houston, the Lawn Tennis Association of Australasia refused her and Melville Reid entry into the following year's Open because of the "professional" contracts they had signed.
Loading
The contracts, inked as a publicity stunt, were for a dollar. Dalton still has the single greenback she received as payment.
More recently, Dalton was part of a push by early professionals to receive a Women's Tennis Association pension. The WTA refused, arguing that benefits shouldn't extend to women who played before 1991, when the pension fund was established. Instead, Dalton and other members of the Nine were offered a once-off, $5000 lump sum from a separate "Legacy Fund".
Dalton says the greatest difference between today's professional tour and what she experienced 50 years ago is less the money on offer than the amount of help players draw on from coaches, trainers, physios and agents. The original Virginia Slims line-up mostly toured on their own and helped one another when they were struggling with their form or confidence.
Dalton remembers a tournament in Nottingham, in the lead-up to Wimbledon, when she was due to play King in the final and all the other players had left for London.
"There was not a soul to practice with," she says. "So Billie and I practiced with one another. We went in, had lunch, changed and played off in the final.
"That would be unheard of today. We all helped one another. We had to really, to survive."
For daily updates of all the tennis action during the Australian Open, sign up for our Sport newsletter here.