DULUTH — It was the toughest free throw in Brooke Olson's career, and after she just missed it, the ball bouncing in and out, all the Minnesota Duluth women's basketball forward could do was smile.
Olson had already made the shot for the record books.
Olson, a senior from Rice Lake, Wisconsin, topped 2,000 career points in leading No. 15 Minnesota Duluth to a 76-48 NSIC victory Friday night over Upper Iowa before 506 at Romano Gym.
"I knew I was close, but I didn't know I was that close," Olson said of approaching 2,000 points. "When I saw it up there (on the video board), I was like 'Oh, gosh.' I could have never imagined this."
Olson finished with 30 points, seven rebounds, four steals and three assists in another vintage performance for the Bulldogs (14-2 overall, 11-0 NSIC), who have won 10 straight.
Olson needed 25 points to reach 2,000. She had a relatively quiet first half, scoring 10 points, but then came out in fuego. She opened the second-half scoring with a 3-pointer and scored UMD's first seven points as the Bulldogs broke from a 38-28 halftime lead by outscoring the Peacocks 22-12 in the third quarter.
Olson is third in NCAA Division II in active career scoring and is the leader in made field goals. She is third all-time among UMD women's basketball scoring leaders behind Dina Kangas (2,810) and Lindsey Dietz (2,114).
Olson reached 2,000 with a strong move to the basket with 8:03 remaining, making the layup while drawing the foul. UMD was quick to put up a message on the video board congratulating her for the accomplishment, and she got a standing ovation from the crowd, but all of this combined to make the ensuing free throw almost impossible to make.
"It was very hard. I knew I was going to miss it," Olson said, laughing afterwards. "It was very emotional. I couldn't even look up. It was all so much. It was a lot."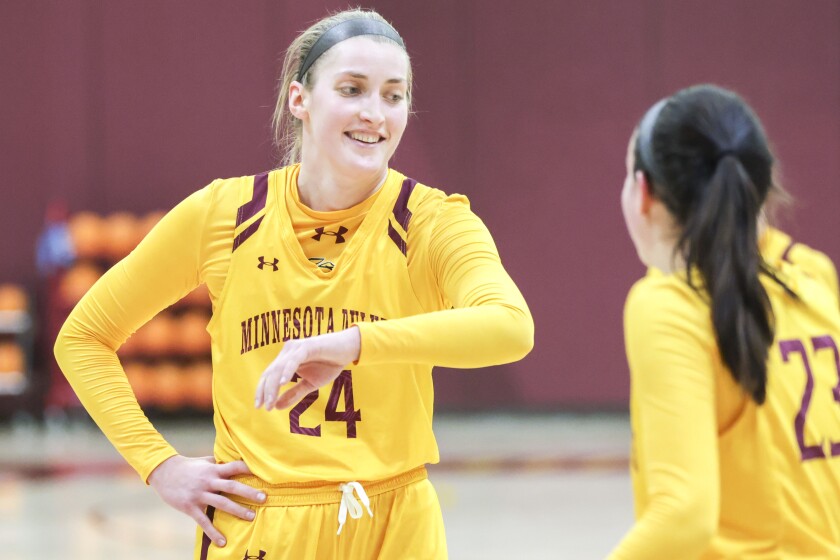 Taytum Rhoades and Ella Gilbertson added 10 points apiece for the Bulldogs while Mia Huberty had 10 points and Lexie Lodermeier and Lydia Haack added eight points apiece for the Peacocks (6-10, 2-9), playing at Romano Gym for the last time in NSIC play before UIU leaves the conference this summer.
Olson was her typical efficient self, scoring her 30 points in less than 25 minutes while making 11 of 18 shots from the floor, 4 of 6 from 3-point range and 4 of 5 from the free-throw line.
"Brook's incredible," UMD coach Mandy Pearson said. "She's so dynamic and so patient. She made great passes tonight, too, and showed great patience."
Olson was quick to thank her fellow "super senior," pass-first point guard Maesyn Thiesen, who like Olson stuck around another season thanks to the NCAA granting an extra year of eligibility due to the COVID-19 pandemic.
Pearson said she is amazed by both players.
"It's incredible how they find ways to come back better every year," Pearson said. "I'm so lucky to have them."
Olson was all smiles after the game as she visited with family and friends, signed autographs and took photos for what seemed like half the building.
Olson was holding the game ball, the second of her career after getting one for reaching 1,000 points as a junior in 2020-21.
If people ever want to know the strength of Olson's game years from now, they simply need to watch Friday's game tape. They would see Olson running up and down the floor, making shots inside and out, making steals and finding open teammates.
And they would also see Olson missing the toughest free throw — ever.
Olson laughed and said, "It definitely was."
Upper Iowa 14-14-12-8-48
Min. Duluth 18-20-22-16-76
Upper Iowa — Lexie Lodermeier 8, Lydia Haack 8, Callista Rochon-Baker 3, Brooke Evenson 4, Mia Huberty 10, Katie Tornstrom 4, Emma Anderson 3, Cassidy Pagel 4, Abbie Riederer 2, Amelia Valentino 2. Totals 18 10-11 48
3-point goals — Lodermeier, Rochon-Baker.
Minnesota Duluth — Brooke Olson 30, Taytum Rhoades 10, Madelyn Granica 5, Kaylee Nelson 9, Maesyn Thiesen 2, Taya Hakamaki 4, Ella Gilbertson 10, Lexi Karge 2, Myra Moorjani 2, Ani Tschida 2. Totals 30 10-16 76.
3-point goals — Olson 4, Nelson 2.
Duluth East's Thompson provides spark as Bulldogs pull away from Peacocks
Mattie Thompson, a 2021 Duluth East graduate, said he has "no idea" what his vertical jump is, but the kids shooting baskets after UMD's NSIC doubleheader Friday at Romano had an idea that it's pretty darn good.
"Hey Mattie — ball," a boy said to Thompson, pointing up at a basketball jammed in the corner where the rim is attached to the backboard.
Thompson obliged by leaping up to grab the ball and then tried to dunk it. While he missed the dunk, he got the ball down. Mission accomplished.
Another mission accomplished was UMD winning its third straight, 80-62 over Upper Iowa, before 821 at Romano Gym.
It hasn't always been pretty this season for the Bulldogs. Two weeks ago they got swept at Romano by Minnesota State Moorhead and Northern State, and then last weekend they almost got beat by a Concordia-St. Paul team that won three games last season and is 3-14 this year.
UMD coach Justin Wieck calls them "a work in progress."
"We're starting to find our groove a little bit," Wieck said. "I'm not sure if we're totally there. It's been a grind for most of the year, but we know how good we can be.
"Last year we were 16-0 to start. You kind of feel like you're on top of the world but that's not the way it is most years. You've got to go through some ups and downs and figure out what makes us successful, and we figured out that we've got to play extremely hard. I think that was the hardest we've played for 40 minutes all year long, especially on the defensive end."
Joshua Brown (17 points), Thompson (14), Joshua Strong (13) and Austin Andrews (11) all scored in double figures to lead the Bulldogs (13-4 overall, 9-2 NSIC), with Thompson and Strong coming off the bench as UMD pulled away after only being up 37-35 at the half.
Jake Hilmer had 22 points to lead the Peacocks (9-8, 6-5).
"Duluth has a good team and we knew they were going to go on some runs, and we had to score with them," Upper Iowa coach Brooks McKowen said. "If you're going to win on the road you've got to make some shots and finish at the rim, and we didn't do that today.
"I felt pretty good at the half. We had the tempo going the right way, that's the style we want to play, up and down, but you get to the rim, whether you get fouled or not, you've got to make them."
Thompson, a 6-foot-7 forward who was redshirted last year, had a highlight-reel dunk in the first half.
"I don't know (how high above the rim I was), but I felt like I jumped pretty high," Thompson said, drawing a laugh.
He almost nearly had another dunk in the second half but was fouled. Teammate Lincoln Meister had the big splash play instead, throwing down an alley-oop from Jack Middleton.
Thompson's 14 points were just one off his career high.
"I came into this season not really knowing what my role was going to be, but I started finding it, little by little," Thompson said. "My role is to provide energy off the bench, whether it be on the offensive or defensive end. Even as a kid, when I was little, I had a lot of energy. That's my role and I try to do it the best that I can."
Upper Iowa — Nick Reid 5, Dylan Jones 4, Lucas Duax 11, Jake Hilmer 22, Austin Hilmer 8, Caleb Delzell 3, Carter Janssen 5, Baden Noennig 4. Totals 21 13-15 62.
3-point goals — J. Hilmer 2, Duax, A. Hilmber 2, Janssen, Delzell.
Minnesota Duluth — Charlie Katona 6, Austin Andrews 11, Joshua Brown 17, Jack Middleton 8, Drew Blair 9, Joshua Strong 13, Mattie Thompson 14, Lincoln Masters 2. Totals 32 10-15 80.
3-point goals — Brown 2, Blair, Strong 3.
window.fbAsyncInit = function() { FB.init({
appId : '929722297680135',
xfbml : true, version : 'v2.9' }); };
(function(d, s, id){ var js, fjs = d.getElementsByTagName(s)[0]; if (d.getElementById(id)) {return;} js = d.createElement(s); js.id = id; js.src = "https://connect.facebook.net/en_US/sdk.js"; fjs.parentNode.insertBefore(js, fjs); }(document, 'script', 'facebook-jssdk'));