The Vancouver Canucks have been the third-worst team in the NHL on home ice this season.
The Vancouver Canucks have had the fifth-best attendance in the NHL this season.
According to the reported attendance, the Canucks average 18,561 fans per game at Rogers Arena — short of capacity, but still fifth in the NHL behind the Montreal Canadiens, Tampa Bay Lightning, Toronto Maple Leafs, and Washington Capitals.
Now, that's the reported attendance, not the actual attendance. There are far too many empty seats in Rogers Arena every game for there to actually be 18,561 fans in the building, but someone is still buying the tickets, even if they're not being used.
At this point, fans have to start wondering if it's worth it. After losing to the St. Louis Blues on Monday night, the Canucks have a 5-9-1 record on home ice. That's the third-worst points percentage on home ice in the entire NHL, ahead of only the Chicago Blackhawks and San Jose Sharks.
At what point is it no longer worth it to go to a Canucks game? The odds are very good that you're going to have a bad time.
It's not just that the Canucks have lost twice as many games as they've won on home ice this season, it's the way they've lost many of those games. This was their fifth 5-1 loss on home ice this season — an esoteric NHL record — and there are also 5-2 and 3-0 losses mixed in. They've gone out like chumps in far too many games.
Right now, the Canucks are not providing a lot of value for the ticket price. But, if fans are still paying that price, it doesn't exactly provide a lot of incentive for the organization to make changes.
But how long will that continue? Most of the Canucks games on home ice this season have been, frankly, very unpleasant to watch. It's not surprising that they've led to fans booing, throwing jerseys, and even chanting "Sell the team," as they did briefly during this game.
"Terrible," said Luke Schenn bluntly. "I don't really know how else to describe it. When you play in your home rink — obviously you want to go out and win every game, I don't know if the expectation is to win every game, but at least you've got to play the right way and compete for a full 60 mins. We beat ourselves most of the time."
It feels like Canucks fans are trapped in an endless loop like Dormammu with Doctor Strange.
"I can lose again and again and again and again forever," said Strange in the climax of his first movie, much like the Canucks are saying to their fans. "And that makes you my prisoner."
I cursed the day God gave me eyes when I watched this game.
The game started out well for the Canucks. They drew a penalty on the first shift of the game, then another a few minutes later, both on Colton Parayko. But the power play without Elias Pettersson just isn't as dangerous — apologies to Conor Garland, but he just doesn't register as the same threat level — so the two power plays passed without accomplishing anything but causing pain. Like kidney stones, in a way.
The power play looked a bit better in the second period with Brock Boeser in place of Garland but the end result was the same: no goals. The power play wasn't the reason the Canucks lost, but going 0-for-4 certainly didn't help, especially when their penalty kill looks more useless than a Vancouver driver in a snowstorm.
The Canucks weren't much better defensively at 5-on-5, where the Blues opened the scoring. Lane Pederson was left turning like a door on its hinges, wondering who to take as a rebound came off Spencer Martin into the slot. Then Nick Leddy passed out of the slot to Jordan Kyrou, who had all the time he needed to pick the top corner, with Oliver Ekman-Larsson caught in no man's land — too far away to block the shot but not far enough away to avoid screening Martin.
After the Canucks and Blues traded glorious chances for JT Miller and Josh Leivo, Ilya Mikheyev tied things up with a fantastic goal. Quinn Hughes sprung Mikheyev on a counterattack and he burst in with the speed we heard all about but haven't yet seen much this season. His move was all speed — he didn't even fake a shot, just moved to his backhand so quickly that Jordan Binnington could only watch as he tucked the puck into the open net.
It feels like it's happened a lot this season: the Canucks scored a goal that had them momentarily feeling good about themselves, then immediately gave up a crushing goal in response. Just 38 seconds after Mikheyev tied the game, Nathan Walker put the Blues back on top. Ekman-Larsson's gap control was non-existent as the Blues moved up ice, giving Walker a Texas-sized amount of space for him to range within — you might call him Walker, Texas Ranger — and he used all that space to rip the puck past Martin's blocker.
The Canucks have a tendency this season to fall apart when they face the slightest adversity, like they have all the structural integrity of a child's sand castle. It felt like the game was basically over after Walker's goal.
"Things just start to unravel after one goal," said Luke Schenn, then shook his head with an exasperated sigh. "I'm not going to say what's on my mind. I mean, it's not nearly good enough. It's terrible."
The Blues made it 3-1 on the power play when, unlike the real world, no penalty killer hassled Robert Thomas as he let loose from the left faceoff dot. It seemed like all four penalty killers on the ice — Hughes, Ethan Bear, Mikheyev, and Miller — just assumed that someone else would take Thomas, so no one did.
"The mistakes — when we make a mistake, it's a ten-bell mistake," said a frustrated Bruce Boudreau. "It's not the puck bouncing over your stick and then something happening. We're doing stuff that — if you're there every day, you know we practice this stuff every day and get better at it every day and then, in the game, it's like our mind goes a little off."
Just like their last game against the Jets, a quick goal in the third period quickly crushed any hope of a comeback. On a power play to start the period, the Blues turned the Canucks' penalty kill into a discombobulated mess before Kyrou rifled an unstoppable shot top shelf. Three penalty killers were bunched up trying to block the shot but only succeeded in making Martin's job harder with their obstinately opaque bodies.
"As a coach, I've never had a losing season, so I just never think that we're gonna lose," said Boudreau. "I think every game we start, we're gonna win. I thought, going into the third period, that if we scored one goal early, we would win the game. If you believe otherwise, then you have no chance of winning."
Kyrou completed the hat trick on a passing play that had the Canucks watching the puck like the crowd watching the final putt in Happy Gilmore. Literally nobody took a man and Kyrou was just as open as the net he put the puck into. It was, as Schenn said, terrible.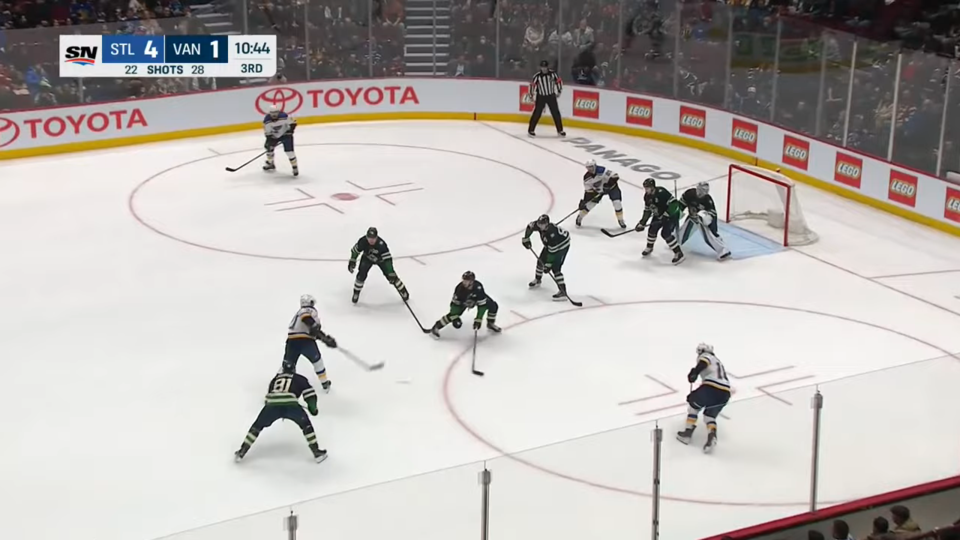 "It's like Groundhog Day," said head coach Bruce Boudreau. "I thought the first period, we were good. When we tied it up, we were good. But I think we're a fragile group and once they got the second and third in quick succession, it was like, 'Oh no, here we go again.'"
At midnight, the Canucks announced that Nils Höglander had been sent down to the AHL, just before the holiday roster freeze. A couple of games ago, Höglander was arguably the Canucks' best player in their win over the Calgary Flames, excellent on a line with Sheldon Dries and Conor Garland. Then that line was broken up against the Jets and Höglander was a healthy scratch against the Blues, because I guess you have to have Jack Studnicka and Lane Pederson in the lineup.
One reason to have Höglander — as well as Vasily Podkolzin — in the AHL right now is to shelter them from the totally clustercuss in Vancouver. Maybe the culture is different in Abbotsford and they can get some of that culture growing on them like mold and when they come back to Vancouver they can spread it around the Canucks locker room where it can be inhaled and they can get a fungal infection of winning culture in their lungs.